Effective, Sunday May 12, 2019 join us for worship at our new location: 7801 N Lamar Blvd
Suite F2
, Austin, TX 78752
The Official Inauguration Service will be held on June 22nd and June 23rd with Apostle Guy J. Tanoh, Senior Pastor of GVMC Churches.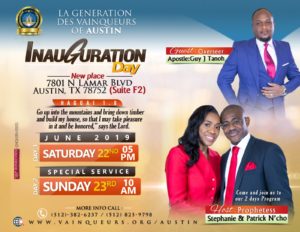 ---
La Génération des Vainqueurs Ministry Church of Austin(Overcomers Church) is an energetic, Bible-based and Spirit-filled church located in Austin Texas. GVMC Austin is a prophetic ministry under the leadership of
Prophetess Stephanie NCHO
and
Apostle Guy Joseph Tanoh
the general overseer of all GVMC churches
Join us in worship to experience a unique prophetic atmosphere of anointing, healing and deliverance. You will be glad you did !!!
Weekly Programs:
Prayer Session: Fridays @ 7:45pm-09:00pm Worship Service: Sundays @ 10:00am-12:00pm Office Hours at Church: By Appointment (Prayers,Counseling, Deliverance) Church Location & Address: 7801 N. Lamar Blvd , Suite F2, Austin TX 78752 (view map) Telephone: 512-522-3080 Email: gvmcaustin@gmail.com
---