Join us in Prayer every Sunday Night @ 9:30PM CST
Call: 218-895-0238
Passcode: 1960#
Invite your friends and family to join this intense prayer moment.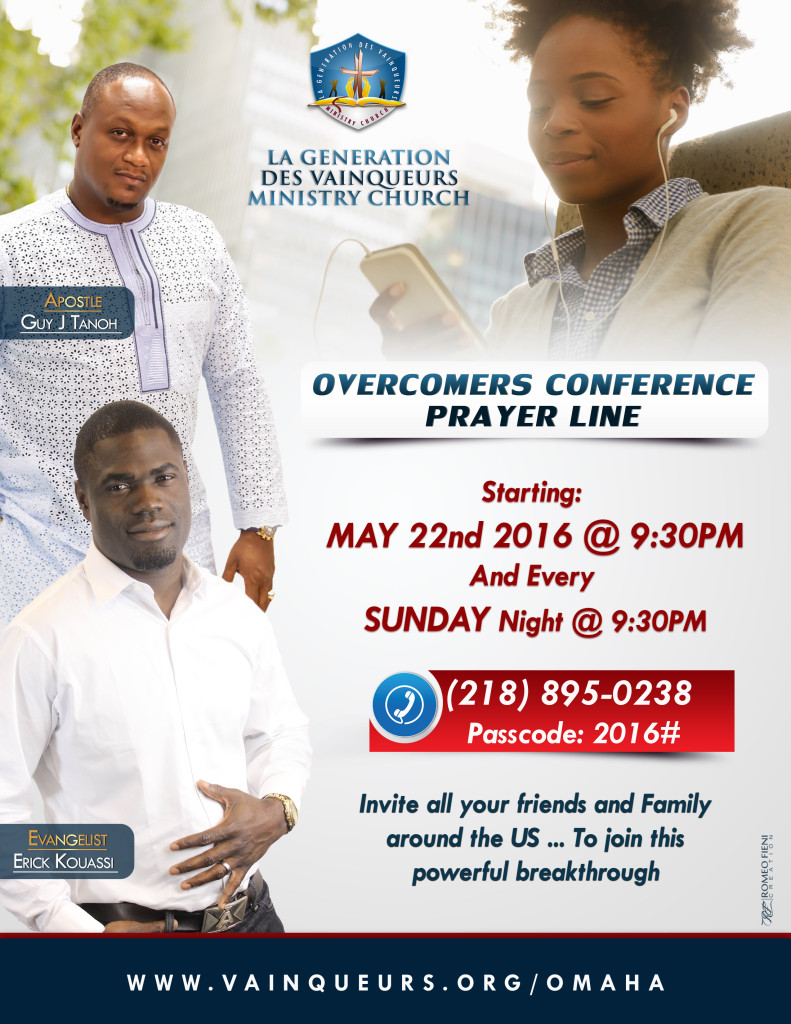 ---
La Génération des Vainqueurs Ministry Church of Omaha(Overcomers Church) is an energetic, Bible-based and Spirit-filled church located in Omaha Nebraska. GVMC Omaha is a prophetic ministry under the leadership of Pastor Eric Kouassi and Apostle Guy Joseph Tanoh the Senior Pastor and general overseer of all GVMC churches.
Join us in worship to experience a unique prophetic atmosphere of anointing, healing and deliverance. You will be glad you did !!!
Weekly Programs:
Bible Study: Wednesdays @ 8:00-9:30pm
Mass Prayer: Fridays @ 8:00-10:00pm
Worship Service: Sundays @ 10:00am-1:00pm
Office Hours at Church: Monday-Friday from 12pm to 9pm or by Appointment (Prayers,Counseling, Deliverance)
Church Location & Address:
2815 N 81st Street, Omaha NE 68134 (view map)
Telephone: 402-348-9649 or 682-438-3953 or 972-559-GVMC (4862)
Email: info@vainqueurs.org or contact Pastor Eric at eric.kouassi@vainqueurs.org
---